Press Releases
IXIASOFT Announced as a Worldwide CCMS Market Leader by Analyst Firm Ars Logica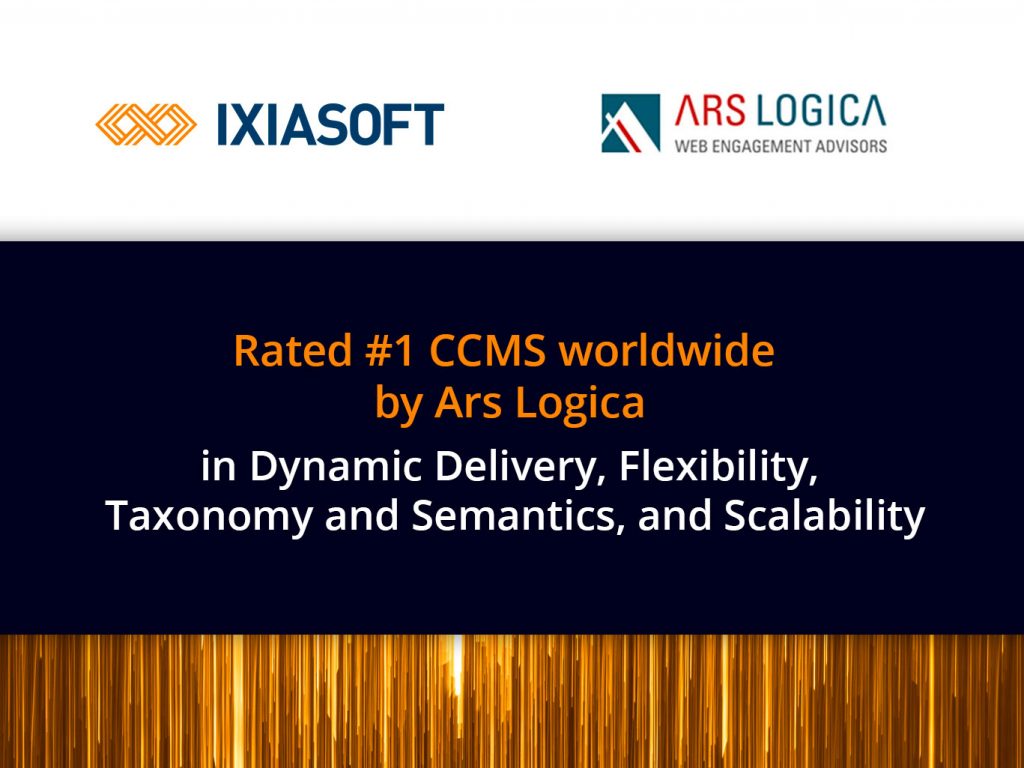 MONTREAL (PRWEB) October 28, 2019
Rated #1 Component Content Management System in Dynamic Delivery, Flexibility, Taxonomy and Semantics, and Scalability Categories
Ars Logica, a high-touch analyst and advisory firm based in Boston, Massachusetts has in a report for Q4 2019 named IXIASOFT a market leader in component content management software (CCMS). Among the market's leading platforms, the report states IXIASOFT is the only 100% DITA-compliant component content management system among the market's three leading platforms.
The report, written by Founder of Ars Logica Tony White, highlighted four key product strengths for IXIASOFT. The first strength is multi-channel publishing options to the widest possible range of information channels, including PDF, web, embedded help tools like Eclipse, e-learning modules, chatbot software, IoT devices, AI platforms, and Markdown variants.
The second key strength is IXIASOFT's scalability. This is a result of the technical underpinnings of IXIASOFT's XML repository, a customer base consisting of large enterprises, and its ability to integrate well with scalable third-party enterprise platforms.
Next is IXIASOFT's taxonomy and semantics; notably, the granularity and nimbleness with which it handles hierarchical relationships, metadata functions, and content discovery and reuse at the topic level.
The last strength mentioned in the report is component lifecycle management. This is one of the most important feature-functional categories of interest to business users.
According to Tony White, the ideal buyers of IXIASOFT CCMS are "organizations that prioritize full DITA compliance in their efforts to include both non-technical SMEs and DITA experts in collaborative, technical-information creation, management, and delivery processes."
"IXIASOFT's ranking as one of the best CCMSs in the world comes as a result of a knowledgeable and passionate team," says Eric Bergeron, CEO at IXIASOFT. "I am very proud of this distinction, and am excited to share our future innovations with the DITA community."
Download the full report here.
—
About IXIASOFT:
Founded in 1998, IXIASOFT is a trusted global leader in the XML content management software industry. Its signature product IXIASOFT CCMS is an award-winning, end-to-end component content management solution (CCMS) used by industry leaders such as Mastercard, Ericsson, Komatsu, Omron, Qualcomm, and SAP.
Read the original press release here.
---
---