Press Releases
IXIASOFT Announces Partnership with Content Strategy Expert Content Rules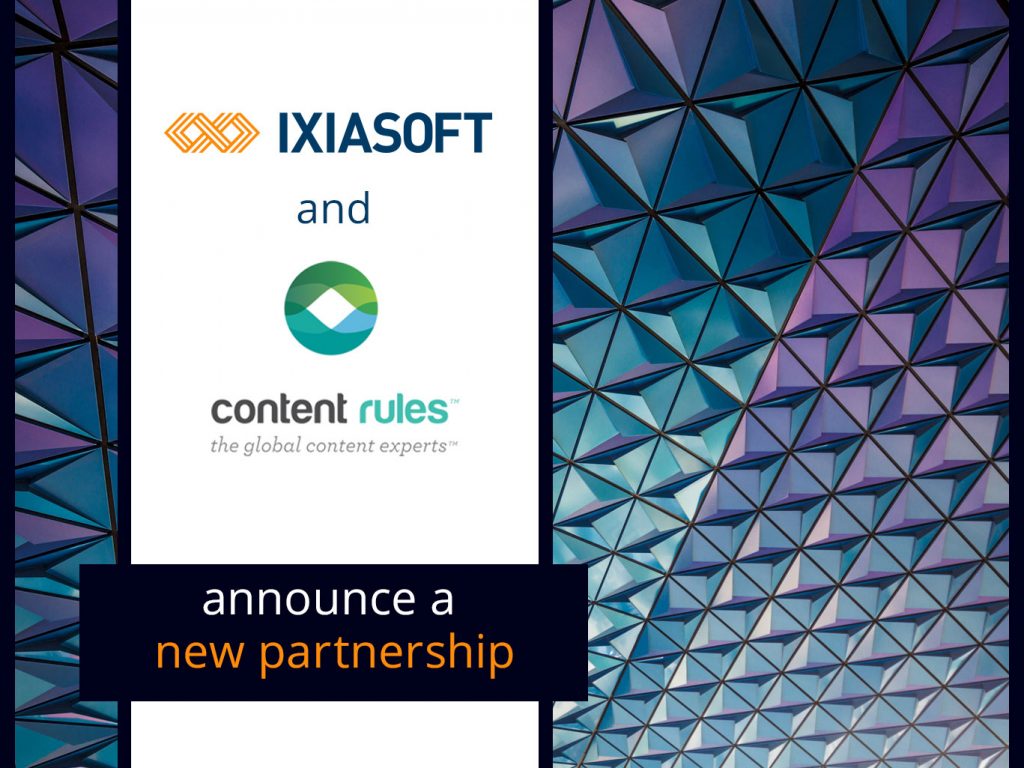 MONTREAL (PRWEB) April 20, 2020
A Joint Effort to Enable Companies to Get the Most ROI Out of Their CCMS
IXIASOFT, a leading CCMS software company operating in North America, Europe, and Japan, and Content Rules, a California-based expert in content strategy, are pleased to announce their new partnership.
This partnership benefits all customers who seek to get the most return on investment from their IXIASOFT CCMS: an enterprise-class DITA-based component content management software used by industry leaders around the world.
"We are delighted to partner with a top CCMS vendor like IXIASOFT, which is as committed to long-term customer success as we are," says Val Swisher, CEO of Content Rules. "We are 100 percent focused on helping companies ensure that their content is serving their business goals. Having the right tools is an important part of that effort."
Content Rules has decades of experience supporting global companies by providing content strategy, content development, and content optimization services. They are experts in helping enterprises transform successfully to structured content, DITA, and component-based content management.
"We're extremely pleased with this newly formed partnership," says IXIASOFT´s Business Development Director Robert Bredlau. "I have been working with Content Rules and Val Swisher successfully in the past and I´m looking forward to pursuing our collaboration. Working together to provide content strategy, optimization, and development will help our customers get the most out of their CCMS deployment and become even more successful with their technical documentation."
Content Rules' expertise in content strategy is invaluable and will enable businesses to adopt practical content strategies that allow them to benefit from the full potential of their IXIASOFT CCMS.
—
About IXIASOFT:
Founded in 1998, IXIASOFT is a trusted global leader in the XML content management software industry. Its signature product IXIASOFT CCMS is an award-winning, end-to-end component content management solution (CCMS) that has been deployed by industry leaders like Mastercard, Ericsson, Komatsu, Omron, Qualcomm, and SAP®.
About Content Rules:
Content Rules, Inc. combines content strategy, content optimization, and content development to maximize the effectiveness of your content and meet your business needs. Content Rules has developed proven strategies for delivering useful content on the right platform, to the right audience, at the right time—anywhere in the world. Innovative companies across the globe trust Content Rules to set global content strategy, optimize content for a worldwide audience, and develop effective content that gets results. Content Rules was founded in 1994 by Val Swisher, CEO.
For more information, visit www.contentrules.com.
Read the original press release here.
---
---